B M Barclay was born in Fife and studied drawing and painting at Edinburgh College of Art. He now lives in Midlothian. He has exhibited with the Society of Scottish Artists and also in group exhibitions in Kirkcaldy Art Gallery, the Peter Potter Gallery, Haddington, the Leith Gallery and Stenton Gallery. He has paintings in the collection of Fife region as well as private collections.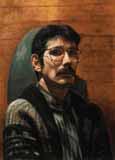 Self-portrait
ARTIST'S STATEMENT
I am a figurative painter drawing with varying degrees of directness upon the heritage of the western figurative tradition. I prefer, generally, an open-ended approach to subject matter which allows a free-associative dreamlike quality to emerge in the juxtaposition of images from past and present, the theatrical and the everyday. I enjoy, and hope that others will enjoy, the fresh focus provided by new contexts and associations, as well as the suggested narratives and echoes of a lost world of childhood.
Perhaps, too, there is the implication of a shared cultural memory subconsciously at work in our contemporary experience, the past informing the present with romantic and mythic resonances. Despite appearances, no conscious elaborate symbolism or fixed narrative is intended in my paintings. There is thus no definitive interpretation. We are free as never before to tap into a cultural legacy which even now includes postmodernism - free to make our own connections and find our own meanings, or else lay aside the need for some precise interpretation or narrative closure, to enjoy our art at a more abstract pictorial level, as in the case of old masters' paintings whose allegorical and literary references may now be lost to us, but which may speak to us with enigmatic power nonetheless, all the more resonant, perhaps, for their added sense of mystery when the intended meaning eludes us.
Not all of my paintings strike this surreal vein. Others are more simple and contemporary. What all have in common, at least in the experience of conceiving them and hopefully bringing them to a successful birth, is a certain ideal reflective state of mind which generally prefers to draw upon memory and imagination rather than direct observation in order to allow for personal subconscious factors, unless direct and deliberate references are called for. There is a preoccupation with light and mood, and attention to detail, in a quest to present as complete and rounded a rendering as I can of a parallel world.

B M Barclay