STUDY:
Hamilton College 1990-98 - Final year: CSYS Art Practical and CSYS Art Written
Glasgow School of Art Painting Department 1998-2002, BA (Hons) Fine Art
EXHIBITIONS:
2001
April - Exhibited at Glasgow Art Fair
June - Solo Exhibition at 'Gallery Cossachok', King Street, Glasgow.
October - 'Camp Transformation '; Landscape project in Cairngorms and exhibition in Studio 48 Mackintosh Building, Glasgow School Art
October-November - Royal Glasgow Institute Exhibition, McLellan Galleries, Glasgow. Work collected by Stenton Gallery, Edinburgh. Awarded scholarship and RGI Exhibitionship
2002
February - Royal Scottish Academy Student Exhibition
March - Shortlisted for Caledonian University Commission
Easter - 'Imaging the Landscape ' Exhibition in the University of New South Wales, Sydney, Australia
April - Glasgow Art Fair, representing the GSA
June - Glasgow School of Art 'Degree Show' Exhibition, Main Gallery/Museum Space, Mackintosh Building
July to September - 'TerraNova' Degree Show Selection. Main Gallery/Museum space, Mackintosh
July - Compass 'Next Generation' Show
August to September - In association with above exhibition, showing large work in the Pentagon Centre, Glasgow
October - Solo exhibition in the Kelly Gallery, Glasgow. (RGI Exhibitionship)
2003
PRIZES:
June 2001 _ 3rd Year Prize, GSA
November 2001 - RGI Scholarship and Exhibition
EXPERIENCE:
January 2000 - Travels to Australia, New Zealand and Singapore
June 2000 - Landscape Workshop, Abernethy (Cairngorms)
June 2001 - Landscape Workshop, Abernethy
October 2001 - Hanging SSA Exhibition, The Mound, Edinburgh
January 2002 (Completion date) - Dissertation, 'Haiku-Mindedness' a 15,000 word investigation of contemporary visual art and poetry in relation to haiku.
August to September 2002 - Travels to Japan
October 2002 - Residency at Cove Park, West coast of Scotland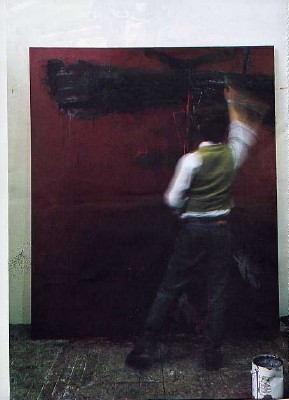 The artist in his studio