1983 - 1987 Edinburgh College of Art, BA (Hons, First Class)
1987 - 1988 Post Graduate Diploma
1989 - 1991 Artist/Tutor in residence at 369 Gallery, Edinburgh
1991 - 1993 Lived and worked in Milan, Italy
1994 - 2005 Artist/Tutor based in Edinburgh

Solo Exhibitions
1990 369 Gallery, Edinburgh
1990 Italian Cultural Institute, Edinburgh
1992 Kingfisher Gallery, Edinburgh
1994 Kingfisher Gallery, Edinburgh
1996 Open Eye Gallery, Edinburgh
2002 House for an Art Lover, Glasgow
2005 Stenton Gallery, East Lothian
Artist's Statement
The paintings are inspired by garden views, and all the shapes, colours and details that are found within these enclosed spaces.
While they represent places I have actually visited such as Le Jardin des Olfacties in the Vendee region of France, or Kew Gardens in London or even very small-scale private gardens, they are not intended to be directly representational. Instead they evoke the sense of a place and atmosphere, providing the viewer with a visual reminder of somewhere visited.
Scholarships and Awards
1987 John Kinross Scholarship for Study in Florence
1987 Richard Ford Scholarship for Study in Madrid
1988 Adam Bruce Thomson Award. Royal Scottish Academy

Public Collections
Edinburgh City Art Centre
Royal Scottish Academy

Reviews
Sept 1990 Scotland on Sunday
March 1991 Scotland on Sunday
May 1991 Scotland on Sunday
July 1991 Scotland on Sunday
Feb 1992 Scotland on Sunday
Nov 1993 The Artist's and Illustrator's Magazine
July 1995 Scotland on Sunday
May 1996 Scotland on Sunday
Claudia Petretti has never felt it necessary to reveal evidence of drawing technique or, for that matter, any of the conventional classical disciplines for which ECA is famous. Instead, she paints like a gifted primitive, adopting a faux-naif innocence in her treatment of landscape. Colour - its rhythms and cadences – is everything to her. So Petretti makes a quilt of radiant colour, bisected sometimes by strophes of severe blacks, under skies which might be a daring cerise or bilious green. She is at her best when the brush refuses to seize up and, as if by its own volition, fuses everything together in sympathetic magic.
W. Gordon Smith, Scotland on Sunday, 1996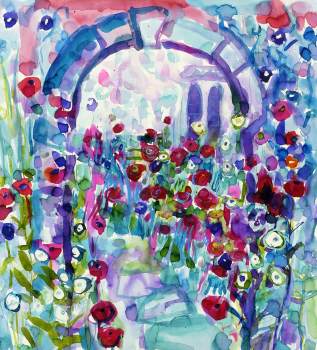 Archway with Red Butterfly, 50 x 43 cm
w/c, ink and pastel