Nael Hanna
and
Maggie Vance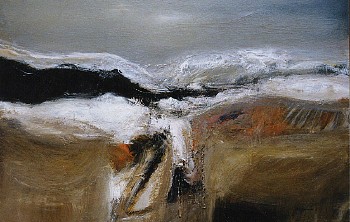 Nael Hanna, Living Elements, 45" x 54"
Preview Sunday 6 May 2001, 3 - 5 pm.
Then every day 12 to 5 pm except Thursdays
until 30 May.

Nael Hanna, who this year again proved to be one of the major attractions of the Glasgow Art Fair, talks about his work:
"I am interested in water, ....sound, ....nature, and am fascinated by the changing colours on the seascape and sky. I enjoy looking for the rhythm created by nature and the force of natural elements. I have a particular interest in the Scottish coastline and have spent a great amount of time studying the East Coast landscape around my home. Although I feel I should try to escape from this subject at times, I am always drawn back to it, by the sheer beauty of what I observe. The landscape and seascape change daily with the seasons and can reflect changes in my mood. These changes are as subtle as the colours in the landscape and I purposely use a soft blend of colours to capture the atmosphere of the place. I follow the work of the people living in these areas; the fishermen, and folks living around the harbour areas, as well as the farmers working the land. I keep painting this subject because of the beauty of the texture in both the sea and the land, which is reflected in the thickness and texture of my paint."
Nael Hanna, April 2001
Maggie Vance's quirky works have attracted a keen following in our mixed shows. Here we give her the space to develop her theme - as ever, that of human life. Against the backdrop of a recent trip to Florida, its Art Deco architecture and such infamous sites as Versace's villa doorstep, Maggie captures moments of human frailty and comedy. Always loving, never malicious, she succeeds in depicting each and every one of us in an unguarded moment.