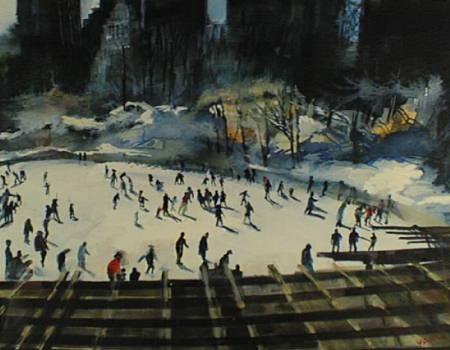 Skaters, Central Park, New York
Margaret Vance was born and lived in the East End of Glasgow.
She studied drawing and painting at Glasgow School of Art where she graduated in the early 60's. After Teacher Training at Jordanhill, she taught adolescents in the East End of Glasgow and has an affection for the humour and lifestyle of its natives. This has been a repeated theme in her painting.
On moving to Edinburgh, Margaret taught art to adults, adolescents and primary school children while raising her own family. She has travelled extensively in Europe, recording encounters with people and their idiosyncratic behaviour, mostly with an eye for the humorous.
Within the last few years, she has developed her work in an individual narrative way - rejoicing in the 'hang & shape' of people in situation. She has exhibited regularly at open exhibitions during this period, latterly at the Leith Gallery and Stenton Gallery.
Humour - thread that binds
"It is humour that binds the show together....in the delightful character of Margaret Vance's 'Tourist with ice cream cone'." (Sally Kerr - Glasgow Herald)